A Long Weekend / Luciano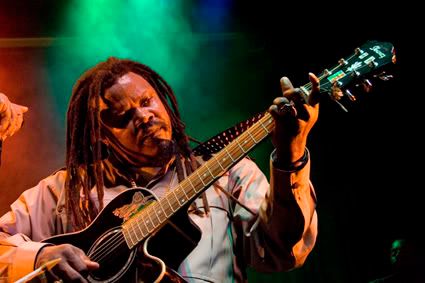 Well it was a big long weeekend in Sydney.


On Thursday evening got the Luciano interview out on 2RRR and then posted up on Podomatic and
OZ Reggae
. You can also find an interview conducted by Melbourne's Jesse I at Oz Reggae or go to
PBS FM
and look up his Chant Down show.


On Friday night there was the Luciano gig itself. Fantastic gig with great support. Sweet vocals from Luciano and Mickey General. Ricky Trooper was impressive and the 'friendly clash' with Firehouse was a very nice way to finish the night. Was a good turn out too, with a nice vibe. There are some great pictures and discusssion of it all over at the Oz Reggae forum.


On Saturday night Nasty Tek put on a blues dance at Jimmy Sing's record shop. Couldn't reach it myself. You can listen to the audio
here
.


Sunday night was Freedom Sounds at Spectrum. Pretty small turn out this week, but still fun. I played a set of the following sevens:


Idi Amin Version - Dean Fraser & Nambo Robinson (Emmanuel), Joshua's Word - Johnny Clarke (Jackpot), Run Come - Jah Stitch (Addis), Slipe Pen Road Rock - Dillinger (Cancer), Barbabas Collins - Lone Ranger (Thrillseekers), Bubble - Clint Eastwood (Manzie), Ranny A Rock Miss Lou - Jack Sowah (Thunderbolt), Under The Sensi - Barrington Levi (Thunderbolt), Pain - Brigadier Jerry (Roots Tradition), Track & Socks - Toyan (Roots Tradition), The Truth - Johnny Osbourne & Burro Banton (Massive B), Hackle Dem - Thriller U (Firehouse), Pumpkin Belly - Tenor Saw (Jammy's), Ganja Smoke - Ward 21 (John John), Down In The Ghetto - Bounty Killer (Kingston 11), Punchline - Luciano (Henfield), Silver & Gold - Luciano (Gibbo), That Day Will Come - Capleton (Gibbo), Stop I Can't - Jah Mali (1st Foundation), Cool Out Son - Junior Murvin (Joe Gibbs), Kill Off The President - Mykal Roze (Xterminator), Got To Be Free - Lloyd Brown (Pick Out), Sensimenia - Buju Banton (Powerlink International)